The holiday home 'Kaunertal' is located on the garden floor and is accessible via stairs. The approx. 35 square metre flat has:
one double room with wardrobe
Enough space for a baby cot (available)
a bathroom with shower, WC and washbasin
a fully equipped eat-in kitchen
a terrace with mountain view
common rooms for use: ski room
quiet and house-trained pets are welcome
(please bring your own food / other equipment)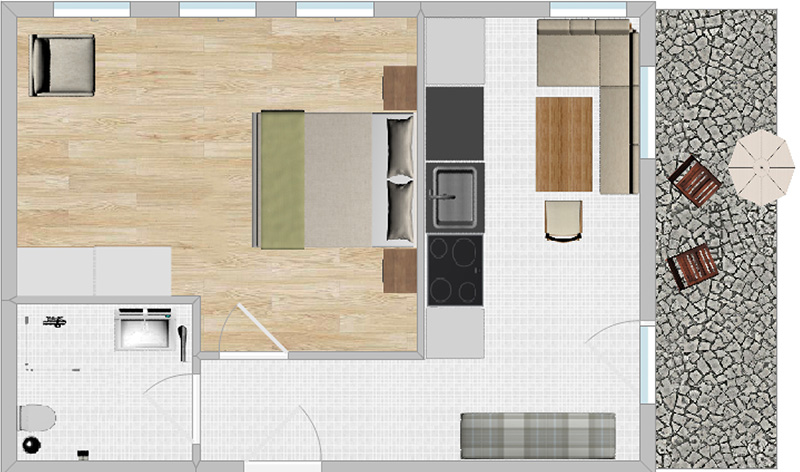 Mountain view
Kitchen
Terrace / Balcony
Parking
Pets allowed
WiFi included
Washing machine
Tumble dryer
When would you like to visit us?
Check right here if your desired period of stay is still available for our holiday home 'Kaunertal'.
Areas marked in red are already fully booked.
"Togetherness in the mountains: pure romance at Landhaus Sonnrain in Fendels"
Welcome, dear couples in search of the perfect retreat for your romantic holiday! Immerse yourself in a world of togetherness, surrounded by breathtaking mountain scenery and unrivalled cosiness at Landhaus Sonnrain in Fendels. We invite you to experience unforgettable moments of love and relaxation together!
Mountain magic for lovers:
Imagine waking up and looking out of the window at majestic peaks covered in glistening snow. At Landhaus Sonnrain, you can enjoy this magical sight together every morning. The snowy surroundings create a romantic atmosphere that lets you experience your togetherness even more intensely.
Culinary highlights for two:
You can cook together or cook for each other in the beautiful new kitchen. Enjoy a romantic candlelight dinner – the epitome of togetherness. Whether it's breakfast with a mountain panorama or dinner in a stylish ambience – here you can taste the love in every bite.
Walks in the snow:
Walks in the snow: Strolling hand in hand through the snow-covered landscape – that's pure romance! Landhaus Sonnrain offers you the opportunity to explore the surrounding area on leisurely walks. Grab your warm jackets, pull your hats low over your face and let the winter idyll enchant you.
Time for each other:
A couple's holiday at Landhaus Sonnrain means one thing above all: time for each other. Away from the hustle and bustle, you can have quiet conversations, make plans together or simply enjoy each other's company. The undisturbed atmosphere allows you to strengthen your relationship and share special moments.
Leave everyday life behind you and immerse yourself in a world of love and relaxation at Landhaus Sonnrain in Fendels. Here you can enjoy your holiday for two to the full and look forward to a time full of romance and togetherness. Come and experience your time out together in the mountains!